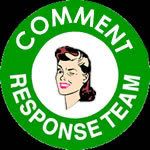 WINNERS ANNOUNCED!

I am pleased to announce the winners of my March Top Commenter Contest.
Drumroll please...


1st Place Harriet @ I Am Harriet winner of 750 Entrecard Credits.
3rd Place Jen @ Redhead Ranting winner of 250 Entrecard Credits.
Congratulations to the winners. The Entrecard Credits have been transferred before this post.

Thank you to everyone who participated!


I LIKE THIS CONTEST SO MUCH I'LL BE REPEATING IT IN APRIL! WOO HOO!
LET THE COMMENTS BEGIN!
Lola's Diner
©2008-2009