Are you a blogger? Would you like to earn free product via gift certificates from EdenFantasys? If so..., what are you waiting for?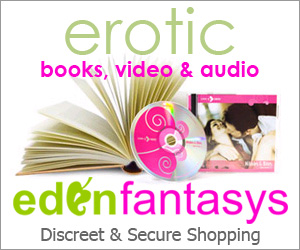 EdenFantasys
has a program for bloggers to do just that. Check out
EdenFantasys Ambassador Program
for complete details.
From EdensFantasys Ambassador Program page:
How do I qualify for the Ambassador Program?
You must have an established, active blog that is at least two months of age and is publicly accessible. Your blog should be updated regularly, with no more than a month's worth of time lapse between blog entries.

Please note that if you are already an Advanced reviewer for EdenFantasys, you are not eligible for the Ambassador Program. The purpose of the Ambassador Program is to bridge the gap between Advanced reviewers, and bloggers who are interested in a more casual approach to promoting EdenFantasys and its products.

Blog post requirements
- Blog post should be 100-200 words in length
- 1-2 links to edenfantasys.com (keywords and corresponding URLs are up to you)
- Content should be relevant to EdenFantasys and positive in nature
- Optional: include a banner for an additional $5 in compensation

How do I get started?
Email ambassador@edenfantasys.com with your name, email address and blog URL. You will receive a detailed response with further information within 1-2 business days.
This is an awesome program! You earn gift certificates to order anything you want from their site.
And while you're stopping by to check out their Ambassador Program, don't forget to check out their
Spring Clearance
and
Free Gift
with any purchase on their Home Page.

Lola's Diner Disclaimer: I may receive a gift certificate in return for this EdenFantasys.com review as part of their Ambassador Program. I was not compensated in any other way for this review. This review is 100% my opinion and has not been edited or reviewed by anyone. Links within this post will direct readers to EdenFantasys' site, which contains adult material.
Lola's Diner ©2008-2011