A while back I received a copy of
Modern Flavors Of Arabia - Recipes and Memories From My Middle Eastern Kitchen By Suzanne Husseini
.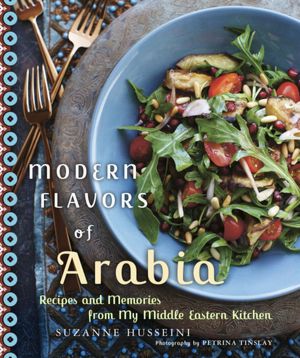 I love Middle Eastern food, but in the area where I live, there just aren't any restaurants in the area. This book solved my craving for all my favorites. It offers the secrets of creating perfect falafel, shawarma, hummus, tabbouleh, spinach filled filo triangles, baklawa and so many more dishes I can't wait to try. Just flipping through the book looking at the fabulous photographs will make your mouth water.
Recipes are arranged by Breakfast, Lunch, Dinner and Dessert, and Mezze. Mezze translated from Arabic means sharing. Small plates, similar to Tapas. There are also Conversion Charts, a dictionary of Arabic ingredients and tools. The book is full of the author's stories and ideas about how to serve each dish.
The hummus and tabbouleh recipes were fantastic. I can't wait to plan an entire meal.
From
Amazon.com
:
Suzanne Husseini was the host of one of the most popular Arabic cooking shows in the Middle East. She is a regular contributor to several publications around the world and frequently travels internationally as a featured food presenter. Suzanne lives in Dubai and Ottawa with her husband and three children.
You can find
Modern Flavors of Arabia
at
Amazon.com
,
Barnes & Noble.com
and your local bookseller. It is also available on
Kindle
. This would make a great stocking stuffer for your favorite cook.
Lola's Diner Disclaimer: I was given the cookbook
Modern Flavors of Arabia
to review. This review is 100% my opinion and has not been edited or reviewed by anyone. I was not compensated in any other way for this book review.
Lola's Diner ©2008-2012